 MONITORING & EVALUATION OF TRAFFICKING IN PERSONS
A supportive community of M&E experts and researchers
working on anti-trafficking programs and policies.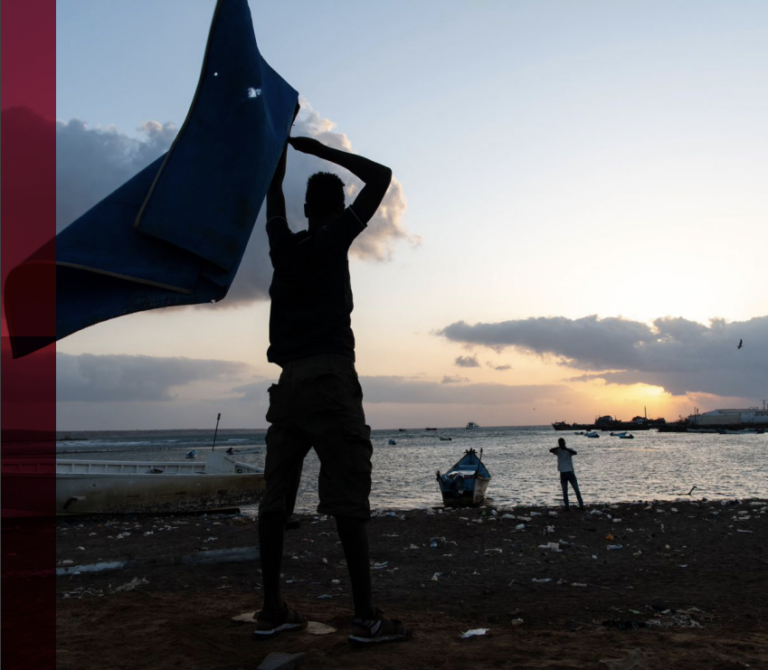 METIP'S LAST WEBINAR: 2022 GLOBAL ESTIMATES OF MODERN SLAVERY

The latest global estimates of Modern Slavery were released on the 12th September 2022, revealing that 50 million people were living in modern slavery in 2021. 
The lead architects behind the Estimates – Michaëlle De Cock from the International Labour Organization and Jacqueline Joudo Larsen from Walk Free – joined us on the 30th November 2022 to discuss the key findings, the methodology behind the estimates, as well as lessons learnt for other researchers looking to measure hidden populations.
A CALL TO ACTION FOR A MORE INCLUSIVE ANTI-TRAFFICKING FIELD
While there is broad consensus within the anti-trafficking field that the inclusion of marginalised groups is crucial to effective programming and research – good intentions are often not reflected in practice.
This Call to Action summarises the main findings that came out of a series of discussions held during our 2022 Annual Conference, calling on readers to reflect on inclusivity within their organisational policies, procedures, research design, data collection and monitoring methods.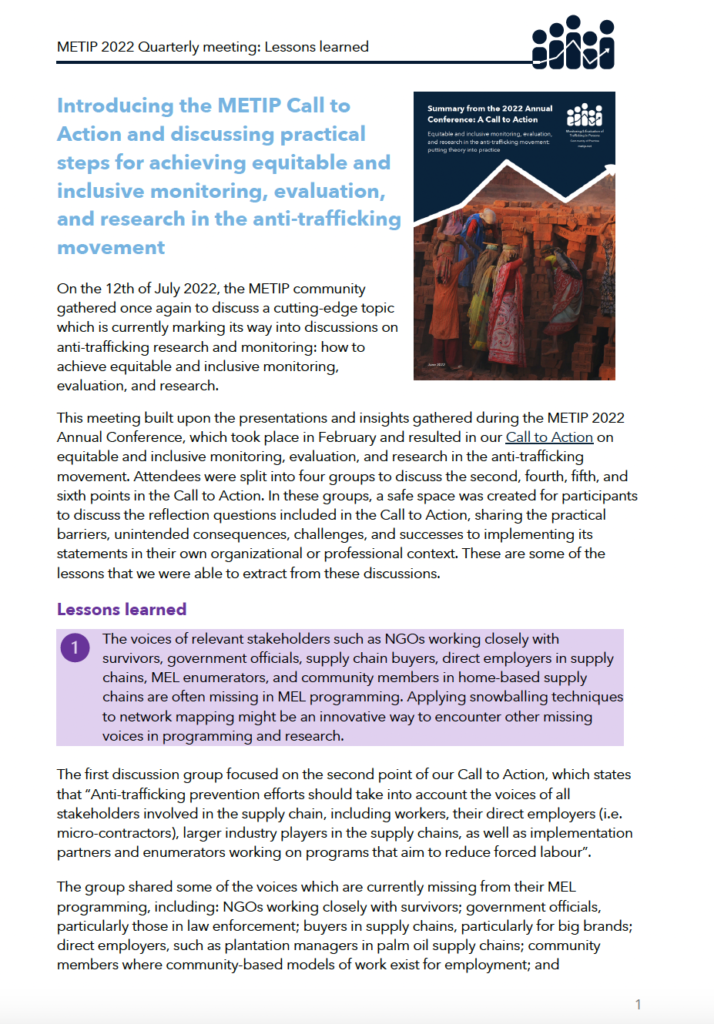 LESSONS LEARNED FROM OUR 2022 QUARTERLY MEETING
On the 12th of July 2022, the METIP community gathered once again for one of our quarterly meetings, to discuss a cutting-edge topic which is currently marking its way into discussions on anti trafficking research and monitoring: how to achieve equitable and inclusive monitoring, evaluation, and research.
We have extracted four main lessons from this event, which you can find in the document attached. These relate to four main topics: ways of capturing missing voices in anti trafficking programming and research, good practices of collaborating with survivors, how to use participatory methods involving survivors and community members, and how to create a more equitable distribution of research grants in the anti trafficking sector.
A community of practice in the anti-trafficking sector
The Monitoring & Evaluation of Trafficking in Persons (METIP) community of practice is a group of monitoring, evaluation and research experts who work in the anti-trafficking sector globally. METIP is a supportive environment where members can network and share best practices, brainstorm ideas and strategies, and problem solve.
The overall purpose of the group is to improve monitoring, evaluation, research and learning, and help increase the body and quality of evidence underpinning counter trafficking programs and policies.
ARE YOU EXPERIENCED IN THE ANTI-TRAFFICKING FIELD?
RESEARCHERS  –  EVALUATORS  –  M&E PROFESSIONALS  –  PROGRAM MANAGERS  –  SUBJECT MATTER EXPERTS
We are always looking to connect with more professionals working in our field.
If you believe you belong in METIP please apply to join.
Upcoming event for members